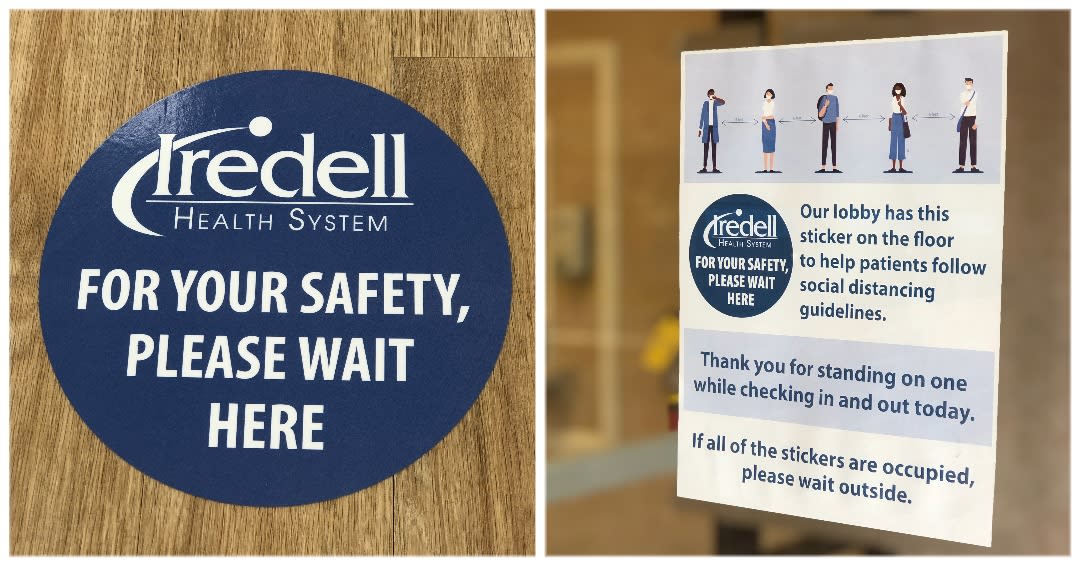 Iredell Family Medicine is welcoming patients to a new normal, implementing enhanced safety protocols that offer patients the same quality of care they have grown to expect from all Iredell Physician Network offices while also providing peace of mind.
With continued diligence in cleaning practices, Iredell Family Medicine has new procedures and practices that will keep patients and staff safe as in-person visits increase.
Masks are required at our facility for patients, visitors and staff. If you are medically unable to wear a mask, you are encouraged to call our office prior to your scheduled time to let us know so we can assist you in adapting your appointment to a telehealth or car-side visit.
Schedule a virtual visit!
Worried about going to your provider's office during COVID-19?
Iredell Family Medicine can now treat patients over the phone or through video. We also offer car-side visits, which allow a patient to remain in their vehicle for their appointment.
Call 704.360.5190 to schedule your virtual or car-side visit.
Jodi N. Stutts, MD
Dr. Jodi Stutts focuses on children ages 6 and up, adolescents, young adults and elderly patients.
She is a graduate of the University of Florida College of Medicine and completed her residency at Wake Forest University Baptist Medical Center in 2006. She is an active advocate for children.
Dr. Stutts enjoys spending time with family and friends in Mooresville. She also enjoys traveling with her husband and daughters. "We are a very active family that likes being outdoors!"
Howard Suls, MD
Dr. Howard Suls is a board-certified family medicine physician with more than 35 years of experience. He has worked in sports medicine for professional, collegiate, and high school teams, and served as a medical director of nursing homes.
He has a special interest in diabetic care, and encourages patients to live a healthy lifestyle through diet, exercise, and smoking cessation.
A U.S. Air Force veteran, Suls serves in leadership positions for the Veterans of Foreign Wars and American Legion posts. His wife is a nutritionist, and he has three children.
Lori Sumner, PA-C
Lori Sumner has called Mooresville home for more than 15 years. She has over 25 years of experience in primary and acute care medicine. She believes in promoting preventive healthcare and wellness.
She and her husband, Mark, enjoy spending time with their three children and spending time on Lake Norman with family and friends. Lori is also an athlete who likes running and yoga.
Kristie Smith, MSN, FNP
Kristie Smith is a family nurse practitioner with over a decade of experience. Her approach to medical care
emphasizes preventive and holistic care.
She moved to Mooresville in July 2018. She and her husband have two children. Her family is involved in baseball, softball and volleyball. They enjoy University of Florida football and baseball.
Colds and the flu share some common symptoms.
Cold and flu season are coming and they share some common symptoms.
In general, cold symptoms tend to start slowly and are usually much milder than the flu, which can come on suddenly and be serious.
Hand sanitizers: 8 do's and don'ts
With the COVID-19 pandemic going on, you want to keep your hands as germ-free as possible. But if you regularly reach for hand sanitizer, it pays to know a few key facts, starting with this one: Washing your hands with soap and running water for 20 seconds is typically the best way to clean your hands.
New patients welcome.
Same day sick appointments available.
Iredell Family Medicine
544 Brawley School Road
Suites A & B
Mooresville, NC 28117
Phone:
704.360.5190
Fax:
704.360.5180
Jodi N. Stutts, MD
Lori Sumner, PA-C
Kristie Smith, MSN, FNP
Iredell Physician Network


Driving
Directions

to Iredell Family Medicine